Description
A new-generation of flagship analog synthesizer. The ultimate multi-voice, multi-timbre, multi-engine. prologue is a fully-programmable, full-featured, professional synthesizer. Preceded by the four-voice polyphonic minilogue and the monophonic monologue, it's the long awaited debut of the flagship: the prologue. prologue is a polyphonic analog synthesizer equipped with a full-sized keyboard. With powerful analog circuits that are descended directly from the earlier models of the series, together with a newly developed digital multi engine and gorgeous DSP-based effects, prologue expands the variety of sounds and the possibilities for user customization. The lineup is comprised of two models that cover musicians' needs for not only stage use, but also studio, home, or touring use: 16-voice 61-key prologue-16, and the eight-voice 49-key prologue-8. These instruments are capable of sounds that go beyond existing analog synthesizers.
prologue SDK
prologue introduces an open development API (Application Programming Interface) that allows users to extend the possibilities of the hardware via an SDK (Software Development Kit) and dedicated development tools. Via this SDK custom digital oscillators can be created for the MULTI ENGINE, and custom modulation effects can be added to the existing modulation effects. Users can then load these new custom oscillators and modulation effects into their prologue via the prologue Librarian application (Mac and Win).
Release schedule:
*[Custom oscillators and effects features will be enabled via a prologue firmware update, and the Librarian application release, in June 2018.]Â 
*[The SDK code, tools and
 
documentation will be made available via GitHub (
 
https://github.com/)Â 
 
at the beginning of May 2018 ]
User Oscillators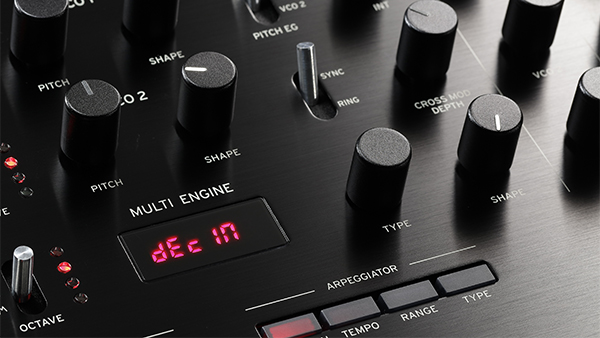 prologue's MULTI ENGINE section has 16 user slots to accommodate custom oscillators. Once loaded via the prologue Librarian application these custom digital oscillators coexist alongside the VCOs of each voice, play with the same polyphony and multi-timbrality, and are processed through the same analog signal path.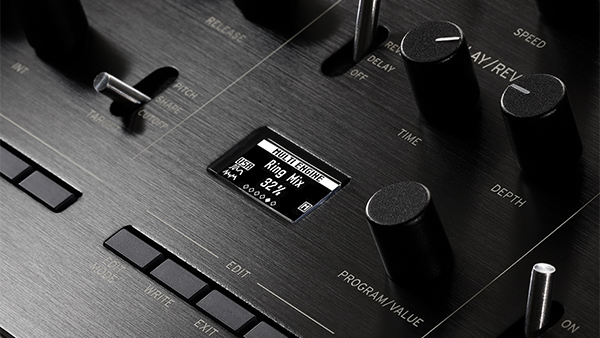 The shape knob can be used to control parameters of the custom oscillators and up to 6 other parameters can be exposed via the program edit menu.
User Effects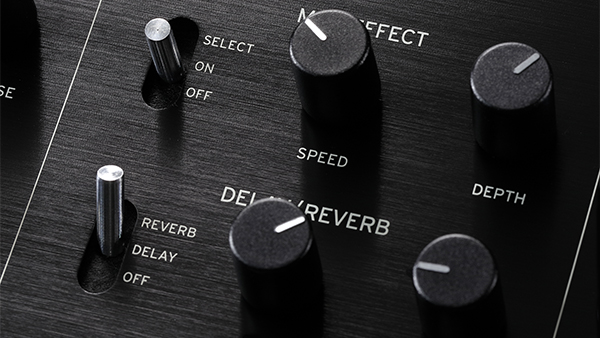 prologue's effects section also has 16 user slots to accommodate custom modulation effects, 8 user slots for Reverb effects and 8 slots for Delay effects. Once loaded via the prologue Librarian application these custom effects will appear alongside the existing modulation effects. The speed and depth knobs can be used to control parameters of these custom modulation effects.
Factory Default User Oscillator: Waves The prologue is preloaded with one user oscillator: Waves. This oscillator is stored in one of the 16 slots available for user oscillators. It consists of two main wavetable oscillators and an additional sub wave that can be optionally used as a ring modulation source. The bit depth of the mixed output can be reduced for a lo-fi effect. The source code for Waves will be available as a template along with the SDK source code on GitHub, so new and unique oscillators can be created.
Obtaining custom oscillators/effects Custom oscillators/effects created by, or in collaboration with, KORG will be featured on this website. 3rd party developers will also be free to distribute their custom oscillators/effects through alternative channels such as community websites, forums, GitHub etc and in some cases featured here.
Loading custom oscillators/effects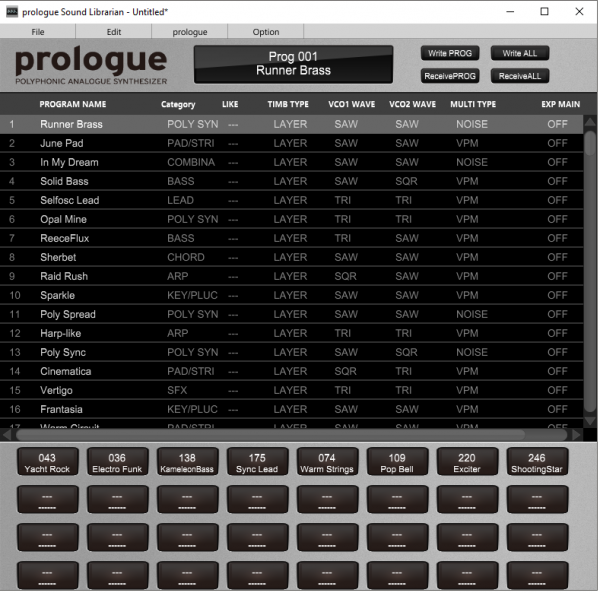 The final version of the librarian may look slightly different
In addition to the usual program management functionalities, the librarian application can be used to load and remove custom oscillators and effects via USB MIDI. The Librarian is a user-friendly software that allows you to manage the sound programs, the custom oscillators and effects on the prologue.
Will there be a patch editor to customize internal parameters of the on-board effects?  There are no editors planned for customization of on-board effects.
Will the librarian be implemented as a VST/AU plug-in to facilitate automation of prologue and storage of patches with DAW projects via Snapshots?  No, not for this version of the Librarian.
Creating Custom Oscillators/Effects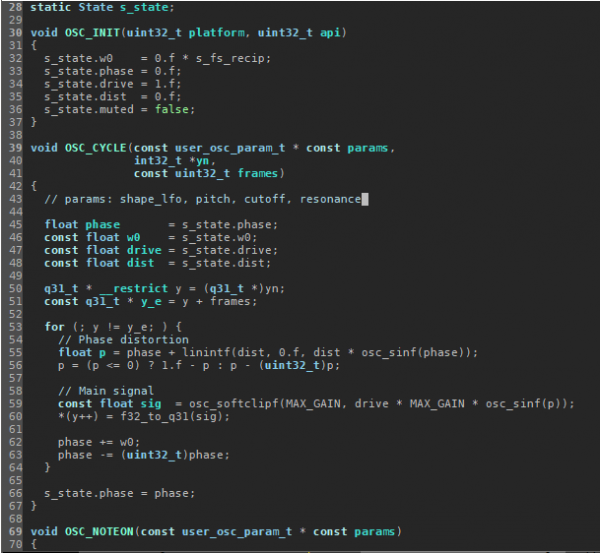 The prologue SDK provides a set of code libraries and tools to allow the creation of custom oscillators and effects.
FAQ Do I need programming experience to create my own content? Yes. Please note that as opposed to the prologue Librarian application that will be released in June, the Developer kit is a standard development kit meant for programmers, and not a neophyte-friendly high-level editor. We expect that oscillators and effects will be programmed and distributed by pro and hobbyist software developers. It will be an open development kit aimed at experienced users so we will not be offering technical support beyond the provided documentation. What programming language can I use?  Custom oscillators and effects can be written in C, with support for a subset of C . What limitations are imposed in terms of available RAM? (it would have to be reasonably finite). For oscillators, both code and variables must fit in 32KB of RAM. Custom effects will have additional RAM for delay lines, up to 2MB. For the multi-engine, will the LFO be able to modulate its parameters?  The LFO can modulate the shape parameter of the multi-engine. Custom oscillators will be able to take advantage of this. How many editable internal parameters can a custom oscillator have?  Parameters for custom oscillators are limited to 6. This is a deliberate limitation to keep custom oscillators straightforward and simple.
Keyboard
prologue-16

61 keys (Natural touch keyboard with velocity)
prologue-8

49 keys (Natural touch keyboard with velocity)
Sound Generation

Analogue sound generator Multi digital sound generator (Noise, VPM, User)
Maximum Polyphony
prologue-16

16 voices
prologue-8

8 voices
Programs

500 voices (more than 250 preload, 250 user programs). Each program provides a program sort function that includes voice mode and timbre settings, and allows up to 8 × 4 banks of live set programs to be registered.
Voice Mode

4 (POLY, MONO, UNISON, CHORD). The VOICE MODE DEPTH setting allows different parameters to be varied for each mode.
Timbres

Max two timbre (Main timbre, Sub timbre) Layer, crossfade, and split settings are possible.
Arpeggiator

6 types (Manual, Rise, Fall, Rise Fall, Random, Poly Random). Tempo and note range can be changed
Program Sort

8 (PROG NUM, CATEGORY, ALPHABETICAL, LIKE, FREQUENT, ENVELOPE, RANDOM, LIVE SET)
Main Synth Parameters
VCO1

WAVE (SAW, TRIANGLE, SQUARE), OCTAVE, PITCH, SHAPE
VCO2

WAVE (SAW, TRIANGLE, SQUARE), OCTAVE, PITCH, SHAPE
MODULATION

PITCH EG (ALL, VCO1 2, VCO2), PITCN EG INT, SYNC, RING, CROSS MOD DEPTH
MULTI ENGINE

NOISE/VPM/USER, OCTAVE, TYPE, SHAPE
MIXER

VCO1, VCO2, MULTI
VCF

CUTOFF, RESONANCE, EG INT, DRIVE, LOW CUT, KEYTRACK
AMP EG

ATTACK, DECAY, SUSTAIN, RELEASE
EG

ATTACK, DECAY, SUSTAIN, RELEASE
LFO

WAVE (SAW, TRIANGLE, SQUARE), MODE (FAST, SLOW, BPM), RATE, INT, TARGET (PITCH, SHAPE, CUTOFF)
Main Effect Parameters
MOD EFFECTS

OFF/ON/SELECT (CHORUS, ENSEMBLE, PHASER, FLANGER, USER), SPEED, DEPTH
DELAY/REVERB

OFF/DELAY/REVERB, TIME, DEPTH
L.F. COMP (prologue-16 only)

OFF/ON, GAIN
MULTI ENGINE
Noise Generator

4 types
VPM oscillator

16 types
User oscillator

16 slots
MOD EFFECTS
CHORUS

8 types
ENSEMBLE

3 types
PHASER

8 types
FLANGER

8 types
USER

16 slots
DELAY/REVERB
DELAY

8 types
REVERB

8 types
Controls

Wheels: Modulation wheel that can modify different parameters for each program, pitch wheel Knobs: PORTAMENTO knob, VOICE SPREAD knob (only on prologue-16)
Display
Main

Real-time OLED oscilloscope provides visual feedback of parameter changes
MULTI ENGINE section

7 segments x 6 digit LED display
Input/Output connectors

Headphone jack (Stereo phone jack)
OUTPUT L/MONO, R jacks (monaural phone jack unbalanced)
SYNC IN jack (3.5 mm [1/8"] mini jack, maximum input level 20 V)
SYNC OUT jack (3.5 mm [1/8"] mini jack, output level 5 V)
MIDI IN jack
MIDI OUT jack
USB B jack
EXPRESSION jack
DAMPER jack (half damper is not supported)
Power Supply

AC Power Supply terminal
Power Consumption
prologue-16

38 W
prologue-8

23 W
Dimensions (W x D x H)
prologue-16

874 mm x 348 mm x 118 mm/34.41" x 13.70" x 4.65"
prologue-8

709 mm x 348 mm x 118 mm/27.91" x 13.70" x 4.65"
Weight
prologue-16

9.1 kg/20.06 lbs.
prologue-8

7.5 kg/16.53 lbs.
Included Items

AC power cable
Accessories (sold separately)
Soft Case

SC-PROLOGUE soft case (For prologue-16/prologue-8)
Sync Cable

SQ-CABLE-6 Sync cable
Damper Pedal

DS-1H damper pedal
Pedal Switch

PS-1 pedal switch, PS-3 pedal switch
Expression/Volume Pedal

XVP-20 Volume/Expression pedal, XVP-10 Expression/Volume pedal
Foot Controller

EXP-2 foot controller